It is a world transformed. Where things are not as they seem. It is a world of the Transformers...A world of the Heroic Autobots and Evil Decepticons!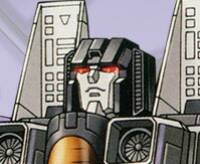 Tech Specs

Strength...7

Intelligence...9

Speed...10

Endurance...7

Rank...5

Courage...9

Firepower...8

Skill...8

Profile

Function: Aircraftsman

Motto: "Strike when the enemy isn't looking." 

Alternate Mode: F-15 Fighting Eagle

Skywarp is the most despicable out of the Destron Army. He could never be called smart and would be confused without Megatron's commands. He can reach mach 2 - 2.4 maximum speed per hour. As a unique function, he can warp (teleport) up to 4km in distance.

Gallery (Click on Thumbnail):


The Transformers and all its subsidiaries is a registered trademark of Hasbro and Takara Tomy