- Magnificus

- RTS Perceptor

It is a world transformed. Where things are not as they seem. It is a world of the Transformers...A world of the Heroic Autobots and Evil Decepticons!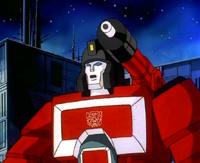 Tech Specs

Strength...7

Intelligence...10

Speed...2

Endurance...7

Rank...7

Courage...8

Firepower...8

Skill...10

Total...59

Profile

Function: Scientist

Alternate Mode: Microscope & Cannon Gun

Ability: In microscope mode, can view objects at a maximum of 10 thousand times magnification. Has a very accurate lens barrel which can convert to a powerful light cannon. Also carries a concussion rifle which has a long range.

Character: He is abundant with knowledge and his data accumulation is second only to Convoy. He is proud of his special duty to research the Cybertrons adaptation to the Earth.

Weapons: Light Cannon & Shock Rifle

Gallery (Click on Thumbnail):


The Transformers and all its subsidiaries is a registered trademark of Hasbro and Takara Tomy