It is a world transformed. Where things are not as they seem. It is a world of the Transformers...A world of the Heroic Autobots and Evil Decepticons!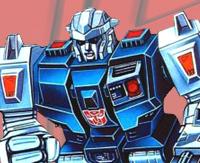 Tech Specs

Strength...8

Intelligence...4

Speed...7

Endurance...7

Rank...5

Courage...9

Firepower...7

Skill...6

Profile

Function: Demolitions

Motto: "War is wherever I want it to be."

Alternate mode: Cybertronian Drill Tank

Nothing feels better to him than sinking his drills into a slab of steel. Loves the scrap metal results of his destructive fury and showing off... will attack anything: enemy Decepticon or harmless lamppost. Optimus Prime worries about his uncontrollable nature. Goes 200mph... has two 6000rpm diamond-tipped drills... twin ion impulse blaster shoots explosive 100lb TNT shells. Goes from vehicle to robot in .4 seconds.

Gallery (Click on Thumbnail):



The Transformers and all its subsidiaries is a registered trademark of Hasbro and Takara Tomy

TAGS:

Transformers

1985

Generation One

G1

Autobot

Jumpstarter

Twin Twist

Diaclone