It is a world transformed. Where things are not as they seem. It is a world of the Transformers...A world of the Heroic Autobots and Evil Decepticons!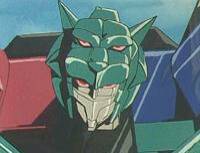 Tech Specs

Strength...10

Intelligence...9

Speed...10

Endurance...10

Rank...9

Courage...9

Firepower...9

Skill...9

Total...75

Destron: Lio Kaisar D-335

Profile

Function: Heavy Mobile Gestalt Warrior

Transformation: Six-Robot Gestalt

Abilities: Concentrating the Breast Power of all Breast Force warriors save Deszaras, the combat strength of his attacks surpasses even that of the Cybertron's Road Caesar!

Weapons: Strike Missile Gun

Final Attack: The "Battle Explosion" - Using this battle technique, he appears temporarily to self-destruct, but in fact he splits up to attack his enemy from above, below and all sides.

Trading Card:

Codename: Lio Kaisar     

Code No.: C-335

Level: 75                

Origin: Death Zone

Profile: As might be expected from the assembly of three air and three land warriors, he is known as a Super Gestalt Transformer who can counter all manner of battle patterns.  However, due at least in part to the inability of his six components to get along, he cannot move well when they must suddenly try to act as one and fight.

Gallery (Click on Thumbnail):


The Transformers and all its subsidiaries is a registered trademark of Hasbro and Takara Tomy

TAGS:

Victory

Decepticon

Destron

Takara

Brestforce

1989

Lio Kaisar

Breastforce