It is a world transformed. Where things are not as they seem. It is a world of the Transformers...A world of the Heroic Autobots and Evil Decepticons!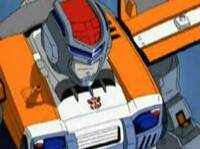 Tech Specs

Strength...9

Intelligence...10

Speed...8

Endurance...9

Rank...7

Courage...10

Fireblast...6

Skill...9

Profile

Minicon Partner: Powerlinx Longarm

Quote: "The front line is not just about battle."

Alternate Mode: Cybertronian Ambulance

Ratchet achieved Super-Mode and a power-up as well as the other Transformers, from the Micron Sparks. He is still uncomfortable about fighting, but focuses on his increased firepower, feeling he can be a more trustworthy comrade for Convoy.


Autobot: Powerlinx Red Alert

Gallery (Click on Thumbnail):


The Transformers and all its subsidiaries is a registered trademark of Hasbro and Takara Tomy

TAGS:

Transformers

Armada

Micron Densetsu

Legend

Mini Con

Red Alert

Ratchet

Powerlinx

Autobot