It is a world transformed. Where things are not as they seem. It is a world of the Transformers...A world of the Heroic Autobots and Evil Decepticons!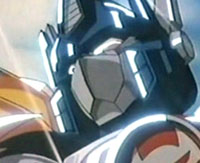 Tech Specs

Strength...10

Intelligence...10

Speed...10

Endurance...10

Rank...10

Courage...10

Firepower...9

Skill...10

Profile

Function: Supreme Commander

Transformation: White Lion

Honest, with a strong sense of right and wrong, though there are times when his seriousness appears humorous. Lio Convoy has a harsh, career-military side to him, but also has a humane gentleness. There are times when he behaves as if he knows something about the secrets of the planet where the battle is taking place.


Cybertron: Lio Convoy C-16

Gallery (Click on Thumbnail):


The Transformers and all its subsidiaries is a registered trademark of Hasbro and Takara Tomy

TAGS:

Beast Wars

Second

BW2

Lio Convoy

Lion

Cybertron

Maximal

C-16