It is a world transformed. Where things are not as they seem. It is a world of the Transformers...A world of the Heroic Autobots and Evil Decepticons!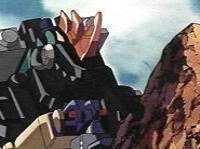 Tech Specs

Power...10

Intelligence...8

Speed...6

Endurance...10

Rank...9

Courage...9

Firepower...10

Technique...10

Profile

Function: Grand Duke of Destruction

Alternate mode: Battle Station

This is Megastorm's new form, powered up under the influence of evil angolmois energy. He transforms in three stages, from destroying dinosaur to monolithic base to attack fortress. His audacious offensives, making use of his tremendous power, force the Cybertrons into tight spots again and again. He is on the verge of no longer considering Galvatron his older brother, and the danger of a split in the camp now looms large. The gigahorn on his head is harder than diamond, and can pierce through all manner of things.

Gallery (Click on Thumbnail):


The Transformers and all its subsidiaries is a registered trademark of Hasbro and Takara Tomy