It is a world transformed. Where things are not as they seem. It is a world of the Transformers...A world of the Heroic Autobots and Evil Decepticons!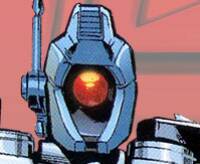 Tech Specs

Strength...6

Intelligence...6

Speed...8

Endurance...8

Rank...6

Courage...10

Fireblast...6

Skill...10

Profile

Alternate Mode: Apache Helicopter

The daredevil flying style of Autobot Whirl might make it look like he could crash at any moment, but he's in total control. The mere sight of him over the battlefield is enough to send enemies running for cover, trying to reach a safe distance before he crashes. Any Decepticons unlucky enough to stick around give him a chance to take his Null-Ray Cannon out for a spin.


Gallery (Click on Thumbnail):


The Transformers and all its subsidiaries is a registered trademark of Hasbro and Takara Tomy