- CR Black Convoy

- Classics Optimus Prime

It is a world transformed. Where things are not as they seem. It is a world of the Transformers...A world of the Heroic Autobots and Evil Decepticons!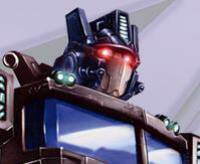 Tech Specs

Strength...10

Intelligence...8

Speed...6

Endurance...9

Rank...3

Courage...9

Fireblast...8

Skill...5

Profile

Alternate Mode: Semi Cab

Broken by a nightmare eternity of torture at the hands of Straxus, Nemesis Prime does not remember what he was before he was this. He is the culmination of a grand plan never realised by Straxus before his destruction; a lowly warrior reconstructed to be the very image of Optimus Prime. Imprinted with memory engrams and combat algorithms recovered from hundreds of sources, he possesses much of the knowledge of the Autobot leader, but without any framework by which to organise it. Despite his incredible power, he is deeply unstable, a threat to Decepticon and Autobot alike. He cowers in the shadows of Cybertron, living only to stalk and destroy his fellow Transformers.


Decepticon: Nemesis Prime

Gallery (Click on Thumbnail):


The Transformers and all its subsidiaries is a registered trademark of Hasbro and Takara Tomy