The Transformers and all its subsidiaries is a registered trademark of Hasbro and Takara Tomy

It is a world transformed. Where things are not as they seem. It is a world of the Transformers...A world of the Heroic Autobots and Evil Decepticons!



- G2 Bumblebee

- Keychain Bumblebee

- Pretender Bumblebee

- Classics Bumblebee

- Universe Bumblebee

- Generations Bumblebee

- Movie Bumblebee

- ROTF Bumblebee

- HFTD Bumblebee

- e-Hobby Bug Bite

- Book Box Bumble

- Encore Bumble

- Animated Bumblebee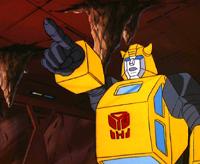 Tech Specs

Strength...2

Intelligence...8

Speed...4

Endurance...7

Rank...7

Courage...10

Firepower...1

Skill...7

Profile

Function: Espionage

Motto: "The least likely can be the most dangerous."

Alternate mode: VW Beetle

Small, eager and brave, bumblebee acts as messenger and spy. Due to his small size, he dares to go where others can't and won't. He idolizes the bigger Autobots, especially Optimus Prime and Prowl, and strives to be accepted. He is the most energy efficient and has the best vision of all the Autobots. He can go underwater for reconnaissance and salvage missions. Although physically the weakest Autobot, his stealth more than compensates for this inadequacy.

1992 Chinese Reissue Version