- Encore Buzzsaw

- Reissue Buzzsaw

- Kiss Play Sundor



It is a world transformed. Where things are not as they seem. It is a world of the Transformers...A world of the Heroic Autobots and Evil Decepticons!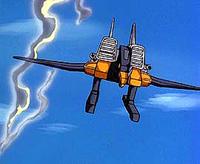 Tech Specs

Strength...5

Intelligence...8

Speed...8

Endurance...4

Rank...6

Courage...7

Firepower...4

Skill...9

Profile

Function: Spy

Motto: "My bite is worse than my bark."

Alternate mode: Micro Cassette

Civil and sophisticated yet very cruel and destructive. Approaches his lethal tasks like a fine artist. Each deadly mission is like working on a new masterpiece. Can pinpoint and photograph a thumbtack from 20 miles away. Flies at 250mph. Carries twin mortar cannons. Diamond-hard, micro-serrated beak can also carve up almost any opponent. Due to large ego, will often sulk rather than proceed if his plans go astray.

Gallery (Click on Thumbnail):


The Transformers and all its subsidiaries is a registered trademark of Hasbro and Takara Tomy