It is a world transformed. Where things are not as they seem. It is a world of the Transformers...A world of the Heroic Autobots and Evil Decepticons!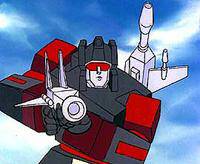 Tech Specs

Strength...3

Intelligence...6

Speed...4

Endurance...6

Rank...6

Courage...10

Firepower...9

Skill...6

Profile

Function: Warrior

Motto: "Sow panic and surrender will bloom."

Alternate Mode: Cassette

If Frenzy needed to breathe, war would be his oxygen. He knows no cause, only craves to spread fear and destruction. His efforts are appreciated by other Decepticons. His devotion to warfare makes him hard to deal with on a personal level. Can roll his drums to produce high-pitch, grating sound of 200db. Disorientates and disrupts electrical flow in opponents circuitry which makes them malfunction. Physically weak. His manic attack can be countered with cool logic.

Gallery (Click on Thumbnail):


The Transformers and all its subsidiaries is a registered trademark of Hasbro and Takara Tomy