It is a world transformed. Where things are not as they seem. It is a world of the Transformers...A world of the Heroic Autobots and Evil Decepticons!



- Reissue Gears

- G1 Swerve

- e-Hobby Small Foot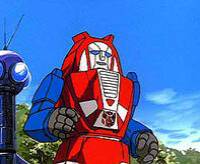 Tech Specs

Strength...8

Intelligence...7

Speed...6

Endurance...8

Rank...6

Courage...9

Firepower...1

Skill...7

Profile

Function: Transport / Recon

Motto: "Nobody wins a war - somebody loses."

Alternate mode: Pick-up Truck

Gears is anti-social, a self - proclaimed misfit. Finds fault in everything and everyone. Acts this way to help cheer others up as they try to cheer him up. Tremendous strength and endurance. Tows heavy loads long distances. Launches to height of 20 miles, floats down on compressed air. Becomes an easy target due to limited manoeuvrability. Can detect infrared.


Gallery (Click on Thumbnail):


The Transformers and all its subsidiaries is a registered trademark of Hasbro and Takara Tomy