It is a world transformed. Where things are not as they seem. It is a world of the Transformers...A world of the Heroic Autobots and Evil Decepticons!



- Reissue Huffer

- Encore Pipes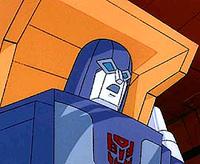 Tech Specs

Strength...7

Intelligence...8

Speed...6

Endurance...7

Rank...6

Courage...8

Firepower...1

Skill...9

Profile

Function: Construction Engineer

Motto: "Molecular structure is the key to success."

Alternate mode: Semi-cab

Huffer is cynical, hard-boiled and pessimistic. "He looks at the world through sludge-coloured wind-shields." will complain it can't be built, but builds it anyway. Not too sociable, but absolutely reliable. Arm sensors can test materials for strength, heat resistance, elasticity, etc. Extremely strong. Superior mathematical and geometrical abilities. Often unhappy and homesick for Cybertron.


Gallery (Click on Thumbnail):


The Transformers and all its subsidiaries is a registered trademark of Hasbro and Takara Tomy