- Encore Buzzsaw

- Reissue Buzzsaw

- G1 Condor

- Kiss Play Sundor



It is a world transformed. Where things are not as they seem. It is a world of the Transformers...A world of the Heroic Autobots and Evil Decepticons!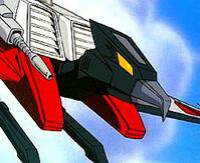 Tech Specs

Strength...5

Intelligence...6

Speed...8

Endurance...5

Rank...6

Courage...2

Firepower...8

Skill...9

Profile

Function: Interrogation

Motto: "The only point I like in Autobots: melting point."

Alternate Mode: Cassette

Laserbeak takes pleasure in hunting his prey - usually the straggling survivors of a battle. Noticeably not brave. Will run for safety if threatened. Flies at speeds up to 250 mph. Uses two independently target-able laser cannons with extreme precision to get information from captives. Shortage of ruby crystals that powers the lasers can panic his systems into shutting down.

Gallery (Click on Thumbnail):


The Transformers and all its subsidiaries is a registered trademark of Hasbro and Takara Tomy