It is a world transformed. Where things are not as they seem. It is a world of the Transformers...A world of the Heroic Autobots and Evil Decepticons!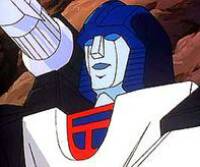 Tech Specs

Strength...6

Intelligence...9

Speed...7

Endurance...5

Rank...7

Courage...5

Firepower...6

Skill...10

Profile

Function: Spy

Motto: "Who and what I am, I hide from the enemy."

Alternate mode: Citanes JS11 F-1 racing car

Mirage is not thrilled about being an Autobot freedom fighter. Prefers hunting turbo foxes on Cybertron with his high-priced friends. Effective fighter, more effective intelligence gatherer. Electro-disruptor can cast illusions altering his physical placement and appearance for up to 6 minutes. Expert marksman with armour-piercing  rocket-dart hunting rifle. Unsure of Autobot cause...can't be fully trusted.


Gallery (Click on Thumbnail):


The Transformers and all its subsidiaries is a registered trademark of Hasbro and Takara Tomy