- Reissue Prowl

- Beast Wars Prowl

- RID Prowl

- Universe Prowl

- Animated Prowl

- RTS Prowl

It is a world transformed. Where things are not as they seem. It is a world of the Transformers...A world of the Heroic Autobots and Evil Decepticons!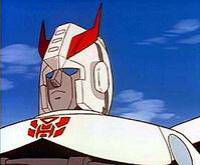 Tech Specs

Strength...7

Intelligence...9

Speed...7

Endurance...9

Rank...9

Courage...9

Firepower...4

Skill...9

Profile

Function: Military Strategist

Motto: "Logic is the ultimate weapon."

Alternate mode: Datsun 280 ZX Police Cruiser

Prowl will keep at a task for as long as it takes. Strives to find reason and logic in everything. A listener, not a talker. Has most sophisticated logic centre of all Autobots. Able to analyse and advise on complex combat situations almost instantaneously. Fire wire-guided missiles and high-corrosive acid pellets. The unexpected can often scramble his circuits.



The Transformers and all its subsidiaries is a registered trademark of Hasbro and Takara Tomy