- Book Box Sideswipe

- Classics Sideswipe

It is a world transformed. Where things are not as they seem. It is a world of the Transformers...A world of the Heroic Autobots and Evil Decepticons!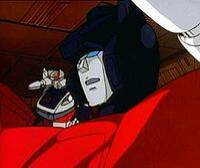 Tech Specs

Strength...7

Intelligence...7

Speed...7

Endurance...7

Rank...5

Courage...10

Firepower...3

Skill...6

Profile

Function: Warrior

Motto: "I don't break rules, I bend them - a lot!"

Alternate mode: Lamborghini Countach LP500S

Sideswipe is nearly the equal of his twin brother, Sunstreaker, in the combat arts, but less cold-blooded. Relishes a fight to the finish with an opponent. Uses underhand tactics when absolutely necessary. Arms act as powerful pile drivers. Flies for up to 2 minutes with rocket backpack. Fires flares visible for up to 18 miles. Rash actions often lead to injuries to himself, takes them all in stride.


Gallery (Click on Thumbnail):


The Transformers and all its subsidiaries is a registered trademark of Hasbro and Takara Tomy