- Encore Skywarp

- CS Skywarp

- ROTF Skywarp

- Classics Skywarp

- Armada Skywarp

- Titanium Skywarp

- Universe Skywarp

- Robot Masters Skywarp



It is a world transformed. Where things are not as they seem. It is a world of the Transformers...A world of the Heroic Autobots and Evil Decepticons!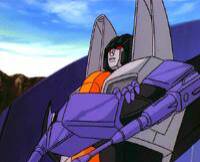 Tech Specs

Strength...7

Intelligence...9

Speed...10

Endurance...7

Rank...9

Courage...9

Firepower...8

Skill...8

Profile

Function: Warrior

Motto: "Strike when the enemy isn't looking."

Alternate mode: F-15 Fighting Eagle Jet

Skywarp is the sneakiest of all Decepticons. Enjoys playing cruel pranks on fellow Decepticons and appearing out of nowhere to attack Autobots. Not too smart. Would be useless without Megatron's supervision. Top speed of 1500 mph. Can instantly teleport up to 2.5 miles. Carries heat-seeking missiles and variable-calibre machine guns.

Gallery (Click on Thumbnail):


The Transformers and all its subsidiaries is a registered trademark of Hasbro and Takara Tomy