- Reissue Astrotrain

- Prototype Astrotrain

It is a world transformed. Where things are not as they seem. It is a world of the Transformers...A world of the Heroic Autobots and Evil Decepticons!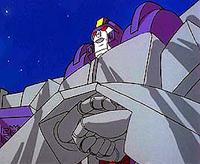 Tech Specs

Strength...9

Intelligence...7

Speed...10

Endurance...7

Rank...6

Courage...7

Firepower...6

Skill...8

Profile

Function: Military Transport

Motto: "In confusion there is opportunity."

Alternate mode: C62 Steam Locomotive & Space Shuttle

Creating confusion is his specialty. As a triple changer, can switch from space shuttle to train to robot almost instantaneously. Thrives on foes' panic and fear. As shuttle, travels at 200 mph in orbit, up to 50,000 mph out of orbit...can launch weapons and satellites. Carries cargo. As train, top speed is 400 mph, range 1700 miles. As robot has great strength, carries powerful ionic displacer rifle.

Gallery (Click on Thumbnail):


The Transformers and all its subsidiaries is a registered trademark of Hasbro and Takara Tomy

TAGS:

Triple Changer

Decepticon

Astrotrain

1985

Space Shuttle

Train