It is a world transformed. Where things are not as they seem. It is a world of the Transformers...A world of the Heroic Autobots and Evil Decepticons!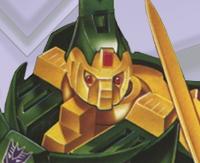 Tech Specs

Strength...3

Intelligence...8

Speed...3

Endurance...7

Rank...5

Courage...10

Firepower...9

Skill...8

Profile

Function: Gunner

Motto: "Nothing left standing means nothing left to change."

Alternate Mode: Rhinoceros Beetle

Winning is not enough - this Insecticon's attack continues until the ground is scorched and levelled. Merciless, cruel...believes kindness only stirs hope among the vanquished. Disliked by fellow Decepticons. In insect mode, can shoot non-stop explosive charges from gun mounts, high energy photons from antenna. Flies 15mph with 400 mile range. Has powerful sonic rifle in robot mode.

Gallery (Click on Thumbnail):


The Transformers and all its subsidiaries is a registered trademark of Hasbro and Takara Tomy

TAGS:

Barrage

Decepticon

Destron

Takara

Hasbro

1985

Insecticon

Deluxe