- Reissue Broadcast

- Reissue Twincast

- Encore Twincast

It is a world transformed. Where things are not as they seem. It is a world of the Transformers...A world of the Heroic Autobots and Evil Decepticons!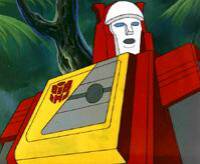 Tech Specs

Strength...8

Intelligence...8

Speed...2

Endurance...8

Rank...7

Courage...9

Firepower...7

Skill...9

Profile

Function: Communications

Motto: "When the music is rockin, I'm rollin."

Alternate Mode: Ghetto Blaster

Finds all Earth music interesting, but it's rock'n'roll  - good, hard and loud - that really sparks his circuits. In the forefront of any situation he's involved in. As am/fm stereo cassette player he can perform as deck plus receive radio signals of all frequencies with power outputs as low as 1/1,000,000 watt. Acts as Autobot communications centre...can transmit up to 4,000 miles. Carries electro-scrambler gun that disrupts electrical devices.

Gallery (Click on Thumbnail):



The Transformers and all its subsidiaries is a registered trademark of Hasbro and Takara Tomy

TAGS:

Transformers

1985

Generation One

G1

Autobot

Blaster

Broadcast

Micro Change