- Reissue Blitzwing

- Animated Blitzwing

It is a world transformed. Where things are not as they seem. It is a world of the Transformers...A world of the Heroic Autobots and Evil Decepticons!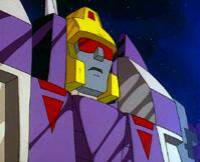 Tech Specs

Strength...8

Intelligence...5

Speed...9

Endurance...8

Rank...6

Courage...7

Firepower...7

Skill...7

Profile

Function: Ground and Air Commando

Motto: "Destroy first, think later."

Alternate mode: Tank & MIG-25 Jet

Ability as triple changer to rapidly transform makes him one of the most dangerous Decepticons. Cruel sense of humour, loud-mouthed, belligerent and brash. Flies at mach 2.7, range 1500 miles, has heat seeking concussion missiles as plane. As tank, has track mounted cannon that fires explosive shells 3.5 miles. As robot, has electron scimitar and gyro-blaster rifle. Often gets stuck in mid-transformation.

Gallery (Click on Thumbnail):


The Transformers and all its subsidiaries is a registered trademark of Hasbro and Takara Tomy

TAGS:

Triple Changer

Decepticon

Blitzwing

1985

Tank

Jet