- Reissue Bombshell

- Salvo

It is a world transformed. Where things are not as they seem. It is a world of the Transformers...A world of the Heroic Autobots and Evil Decepticons!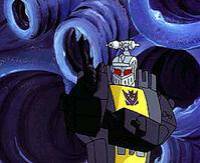 Tech Specs

Strength...5

Intelligence...8

Speed...5

Endurance...5

Rank...6

Courage...5

Firepower...9

Skill...8

Profile

Function: Psychological Warfare

Motto: "The mind is my playpen."

Alternate Mode: Boll Weevil

Can turn helpless foes into helpless accomplices by injecting cerebro-shells into their head (robot or human) with his stinger...gives him control of their minds...has a cruel sense of humour...arms himself by having his victims debase themselves. In insect mode this Insecticon can fly 10km. In robot mode wears head-mounted mortar...throws 25kg explosive shell 15km. Cerebro-shells can be used against him if removed from victim's head.

Gallery (Click on Thumbnail):


The Transformers and all its subsidiaries is a registered trademark of Hasbro and Takara Tomy

TAGS:

Bombshell

Decepticon

Destron

Takara

Hasbro

1985

Insecticon