It is a world transformed. Where things are not as they seem. It is a world of the Transformers...A world of the Heroic Autobots and Evil Decepticons!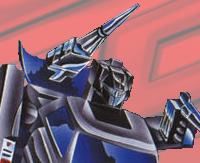 Tech Specs

Strength...5

Intelligence...6

Speed...7

Endurance...8

Rank...5

Courage...8

Firepower...8

Skill...6

Profile

Function: Road Warrior

Transformation: Savanna (Mazda) RX-7 & armoured vehicle

Motto: "The road is no place for the weak."

Note: Tech Spec is Hasbro's unused version.

Has no fear of car accidents-can pulverize any vehicle that approaches within 4 inches. Reckless driver due to arrogant self-confidence. Unconcerned with humans' safety. Aggressive in battle car mode rear fenders convert to powerful fists capable of 30 punches per minute and trunk turns into high-energy plasma beam projector...same weapons in robot mode. Loses driving control when using weapons in car mode.

Gallery (Click on Thumbnail):



The Transformers and all its subsidiaries is a registered trademark of Hasbro and Takara Tomy

TAGS:

Transformers

1985

Generation One

G1

Autobot

Downshift

Double Changer

Diaclone

Mail Away

Omnibot