It is a world transformed. Where things are not as they seem. It is a world of the Transformers...A world of the Heroic Autobots and Evil Decepticons!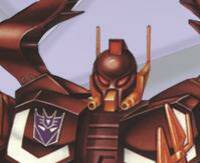 Tech Specs

Strength...7

Intelligence...8

Speed...4

Endurance...5

Rank...5.5

Courage...7

Firepower...6

Skill...10

Profile

Function: Thief

Motto: "I take no prisoners, just spare parts."

Alternate Mode: Lamellicorn Beetle

Sneakiest of the Insecticons...if it's not bolted to the floor, it's not safe from his greedy grasp. No challenge is too great; the more difficult something is to steal, the more he wants to steal it. As insect, flies 30mph with 2 small jets on his back. Pincer-like antenna can slice through 2-inch thick steel. Has twin pinpoint lasers on mouth; can carry 30 tons. As robot has photon cannon.

Gallery (Click on Thumbnail):


The Transformers and all its subsidiaries is a registered trademark of Hasbro and Takara Tomy

TAGS:

Chop Shop

Decepticon

Destron

Takara

Hasbro

1985

Insecticon

Deluxe