- Reissue Adams

- e-Hobby G1 Gobots

It is a world transformed. Where things are not as they seem. It is a world of the Transformers...A world of the Heroic Autobots and Evil Decepticons!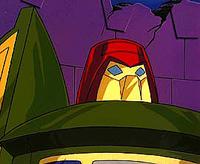 Tech Specs

Strength...2

Intelligence...8

Speed...10

Endurance...6

Rank...5

Courage...7

Firepower...6

Skill...9

Profile

Function: Recon & Communications

Motto: "Reach for the stars, but never leave your friends."

Alternate mode: UFO

Lonely in outer space...relieves boredom by scaring humans by hovering over their backyards at night or zig-zagging through meteor showers. Can achieve earth orbit, even go to moon and back with enough fuel. Acts as a communications satellite...optical sensors can see bicycle at 600 miles. Has pinpoint accuracy, high-powered particle beam. Not well-suited to function on ground as robot.



The Transformers and all its subsidiaries is a registered trademark of Hasbro and Takara Tomy

Gallery (Click on Thumbnail):

TAGS:

Transformers

1985

Generation One

G1

Minibot

Cosmos

Adams