- CS Dirge

- BW2 Dirge

- Generations Dirge

- Platinum Dirge

It is a world transformed. Where things are not as they seem. It is a world of the Transformers...A world of the Heroic Autobots and Evil Decepticons!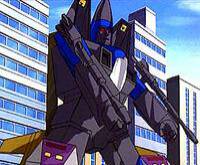 Tech Specs

Strength...7

Intelligence...8

Speed...8

Endurance...6

Rank...5

Courage...4

Firepower...8

Skill...9

Profile

Function: Warrior

Motto: "Fear is the element that unites all losers."

Alternate Mode: Modified F-15 Fighting Eagle Jet

The sound of his engines causes petrifying fear in those who hear them. He's a master at handling fear...other Decepticons are put off by his mournful silent ways. "He gives me the creeps," says Ramjet. He carries two concussion missiles. Needs to control a situation, otherwise, he too falls victim to fear, making him useless as a warrior.

Gallery (Click on Thumbnail):


The Transformers and all its subsidiaries is a registered trademark of Hasbro and Takara Tomy

TAGS:

Dirge

Decepticon

Destron

Takara

Hasbro

1985