- Armada Downshift

- Energon Downshift

It is a world transformed. Where things are not as they seem. It is a world of the Transformers...A world of the Heroic Autobots and Evil Decepticons!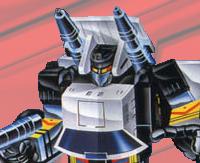 Tech Specs

Strength...5

Intelligence...7

Speed...6

Endurance...6

Rank...7

Courage...6

Firepower...8

Skill...9

Profile

Function: Air-Defence

Transformation: Toyota Celica XX & attack plane

Motto: "If war is the only reason to live, then living isn't worth it."

Note: Tech Spec is Hasbro's unused version

Fought for so long on Cybertron he wondered whether to continue... nothing pleased him until arrival on Earth ...here he delights in everything...all fresh and new to him...likes children...calls them mini-men and mini-women. Has magnetic-guided ground-to-air rocket launchers on shoulders in robot mode... also can be used in car mode...30 mile range … rust rifle weakens foes with stream of liquid oxidizing agents. Not effective versus non-ferrous foes.

Gallery (Click on Thumbnail):



The Transformers and all its subsidiaries is a registered trademark of Hasbro and Takara Tomy

TAGS:

Transformers

1985

Generation One

G1

Autobot

Downshift

Double Changer

Diaclone

Mail Away

Omnibot