- RTS Solar Storm Grappel

It is a world transformed. Where things are not as they seem. It is a world of the Transformers...A world of the Heroic Autobots and Evil Decepticons!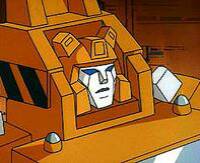 Tech Specs

Strength...8

Intelligence...8

Speed...3

Endurance...4

Rank...7

Courage...7

Firepower...7

Skill...9

Profile

Function: Architect

Motto: "Beauty is in everything except war."

Alternate Mode: Truck Crane

On Cybertron his buildings are considered works of art...on earth his ideas limited by war. Takes pride in his work, prone to severe depression if they're destroyed in battle. As a crane can lift up to 35-ton object and position it with precision and grace. As robot has high-temperature arc-welder rifle...can launch rockets 4.5 miles from wrist sockets. Prone to breakdowns in vehicle mode.

Gallery (Click on Thumbnail):



The Transformers and all its subsidiaries is a registered trademark of Hasbro and Takara Tomy