- Pretender Grimlock

- Beast Wars Grimlock

- Classics Grimlock

It is a world transformed. Where things are not as they seem. It is a world of the Transformers...A world of the Heroic Autobots and Evil Decepticons!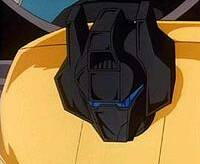 Tech Specs

Strength...10

Intelligence...7

Speed...3

Endurance...10

Rank...9

Courage...10

Firepower...8

Skill...10

Profile

Function: Dinobot Commander

Motto: "Among the winners, there is no room for the weak."

Alternate mode: Tyrannosaurus Rex

Most fearsome and powerful Dinobot. Although dedicated to the Autobot cause, resents authority. Cold, merciless, but a valiant warrior. His contempt for the weak, including all humans. Great strength, uses jaws to break almost anything in two. Carries energo sword and galaxial rocket launcher in Dinobot mode. Other than arrogance and lack of speed, has no real weakness.

Gallery (Click on Thumbnail):



The Transformers and all its subsidiaries is a registered trademark of Hasbro and Takara Tomy

TAGS:

Transformers

1985

Generation One

G1

Autobot

Dinobot

Grimlock

Diaclone