- G2 Long Haul

- Encore Long Haul

It is a world transformed. Where things are not as they seem. It is a world of the Transformers...A world of the Heroic Autobots and Evil Decepticons!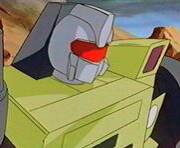 Tech Specs

Strength...9

Intelligence...5

Speed...2

Endurance...9

Rank...4

Courage...8

Firepower...7

Skill...4

Profile

Function: Transport

Motto: "A battle front is only as good as its supply line."

Alternate mode: Dump Truck

Unhappy with unglamorous role, but understands its importance...helps build Decepticons' massive energy-recovery installations. As vehicle, can carry 90 tons for 1200 miles, use a dual heat-seeking missile mount. As torso module, combines with fellow Constructicons to form giant robot 'Devastator'. Can be goaded into a fight in which he's overmatched.

Photograph Links (click the following to view):


The Transformers and all its subsidiaries is a registered trademark of Hasbro and Takara Tomy