- G2 Mixmaster

- Encore Mixmaster

It is a world transformed. Where things are not as they seem. It is a world of the Transformers...A world of the Heroic Autobots and Evil Decepticons!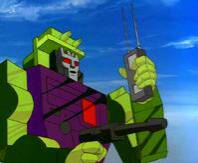 Tech Specs

Strength...7

Intelligence...6

Speed...3

Endurance...8

Rank...4

Courage...6

Firepower...7

Skill...9

Profile

Function: Materials Fabrication

Motto: "How strong the steel, how quick the conquest."

Alternate mode: Cement Mixer Truck

Nothing is safe from him...he will use anything from unliving rock to living robot in making new materials. Uses acids and bonding agents to reduce and recombine almost anything inside mixing drum...a chemistry lab on wheels. As left leg module, combines with fellow Constructicons to form giant robot 'Devastator'.

Photograph Links (click the following to view):


The Transformers and all its subsidiaries is a registered trademark of Hasbro and Takara Tomy