It is a world transformed. Where things are not as they seem. It is a world of the Transformers...A world of the Heroic Autobots and Evil Decepticons!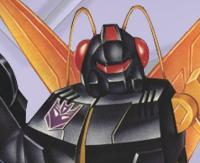 Tech Specs

Strength...8

Intelligence...5

Speed...3

Endurance...8

Rank...5

Courage...9

Firepower...9

Skill...5

Profile

Function: Warrior

Motto: "The sight of ruin only makes me crave more."

Alternate Mode: Locust

Unconcerned about safety of innocents...will level an entire town to hunt down an enemy. A tough-talking, straight-to-the-point Insecticon, always looking forward to the next battle. In insect mode, leaps 200 feet at insect size, 1.5 miles normal size. Rear legs can shatter foot-thick steel; their vibrations from rubbing can crumble a brick wall. Antenna shoot 80 KV electricity. Carries concussion blaster gun in robot mode.

Gallery (Click on Thumbnail):


The Transformers and all its subsidiaries is a registered trademark of Hasbro and Takara Tomy

TAGS:

Ransack

Decepticon

Destron

Takara

Hasbro

1985

Insecticon

Deluxe