It is a world transformed. Where things are not as they seem. It is a world of the Transformers...A world of the Heroic Autobots and Evil Decepticons!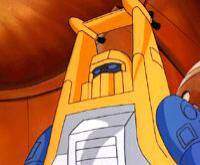 Tech Specs

Strength...3.5

Intelligence...8

Speed...6

Endurance...6

Rank...6

Courage...10

Firepower...6

Skill...7

Profile

Function: Warrior

Motto: "Be unyielding as the ocean waves and your enemies shall fall."

Alternate mode: Hovercraft

Displays a zest for his job unmatched by fellow Autobots. Loves the ocean and its creatures...unhappy when he returns to land and reverts to robot form. Loves the thrill of naval battle. Can go 120 knots, 4000-mile range. Has sonar radar and underwater surface-to-air lasers, also used in robot mode. Wheels allow limited land travel. Not too strong or mobile as robot.



The Transformers and all its subsidiaries is a registered trademark of Hasbro and Takara Tomy

Gallery (Click on Thumbnail):

TAGS:

Transformers

1985

Generation One

G1

Minibot

Seaspray