It is a world transformed. Where things are not as they seem. It is a world of the Transformers...A world of the Heroic Autobots and Evil Decepticons!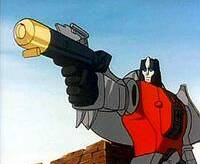 Tech Specs

Strength...9

Intelligence...3

Speed...2

Endurance...10

Rank...4

Courage...9

Firepower...1

Skill...5

Profile

Function: Jungle Warrior / Demolitions

Motto: "Stomp your enemy, crush him under your feet."

Alternate mode: Brontosaurus

Likes to make presence known - a footstep can be heard and felt in a 3-mile radius. Gentle and shy, but terrifying and unstoppable in battle. Like other Dinobots, dislikes Optimus. Can exert 40,000 psi via feet - enough to shatter a bridge. Immense strength and endurance. Adept at fighting in water, swamp, and jungle. Slow, not too clever - often victim of the calamities he causes.

Gallery (Click on Thumbnail):



The Transformers and all its subsidiaries is a registered trademark of Hasbro and Takara Tomy

TAGS:

Transformers

1985

Generation One

G1

Autobot

Dinobot

Sludge

Diaclone