- Reissue Warpath

- e-Hobby G1 Gobots

- Generations Warpath

It is a world transformed. Where things are not as they seem. It is a world of the Transformers...A world of the Heroic Autobots and Evil Decepticons!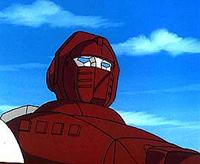 Tech Specs

Strength...9

Intelligence...5

Speed...2

Endurance...8

Rank...5

Courage...8.5

Firepower...7

Skill...10

Profile

Function: Warrior

Motto: "A good shot is worth more than a good intention."

Alternate mode: USSR T72 Tank

Thinks he's more impressive than his comrades do...likes to show off his sharp shooting. Boisterous, loud-mouthed...raucous sense of humour makes him welcome company. Vain - upset by even the smallest scratch to his gun barrel. Can go 30 mph over roughest terrain, hit a hex-nut 1.5 miles away. Shoots explosives, thermal, cryogenic, acid, sonic shells. Great strength but helpless if upended.



The Transformers and all its subsidiaries is a registered trademark of Hasbro and Takara Tomy

Gallery (Click on Thumbnail):

TAGS:

Transformers

1985

Generation One

G1

Minibot

Warpath