It is a world transformed. Where things are not as they seem. It is a world of the Transformers...A world of the Heroic Autobots and Evil Decepticons!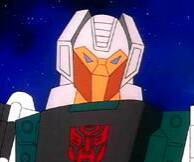 Tech Specs

Strength...5

Intelligence...8

Speed...9

Endurance...6

Rank...7

Courage...9

Firepower...7

Skill...8

Profile

Function: Biomechanical Engineer

Motto: "The strongest tyrant cannot crush freedom of thought."

Alternate mode: Cybertron Jet

Headmaster Partner: Arcana

So full of ideas that he often begins disclosing a new one before he finishes explaining an old one. Worked with the mysterious Nebulon medical doctor, Arcana, to whom he's binary-bonded, to devise new technology that created the Headmasters. In jet mode, maximum speed: 5200 mph. Range: 8000 miles. In robot mode, carries high-energy photon pulse cannons. Sometimes overheats and shorts out sections of his cerebro circuitry.



The Transformers and all its subsidiaries is a registered trademark of Hasbro and Takara Tomy