It is a world transformed. Where things are not as they seem. It is a world of the Transformers...A world of the Heroic Autobots and Evil Decepticons!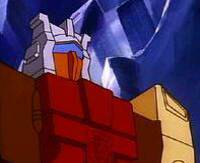 Tech Specs

Strength...6

Intelligence...9

Speed...6

Endurance...6

Rank...7

Courage...6

Firepower...7

Skill...9

Profile

Function: Computer Programmer

Motto: "I like the sea far away and my feet on the ground."

Alternate mode: Cybertronian Race Car

Headmaster Partner: Stylor

Spent several thousand years crunching numbers at Cybertrons institute for higher programming before a Decepticon attack reduced it to a pile of smoking microchips. Binary-bonded to Stylor, an egotistical Nebulan more concerned with personal appearance than warfare. In car mode, maximum speed: 478 mph. Range: 630 miles. Hood mounted infra-red range finder automatically targets roof-mounted dual lasers.



The Transformers and all its subsidiaries is a registered trademark of Hasbro and Takara Tomy