It is a world transformed. Where things are not as they seem. It is a world of the Transformers...A world of the Heroic Autobots and Evil Decepticons!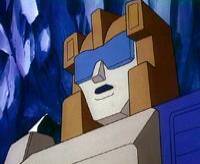 Tech Specs

Strength...7

Intelligence...7

Speed...7

Endurance...6

Rank...6

Courage...6

Firepower...6

Skill...10

Profile

Function: Electronic Warfare

Motto: "War is the playground of the ignorant."

Alternate mode: Cybertronian Helicopter

Headmaster Partner: Gort

To him, warfare is barbaric, worthy of only the most primitive... thinks differences need to be talked about, which he does endlessly. Uses big words no one else understands. A self-righteous snob. Binary-bonded to Gort, a cheerful, courageous young Nebulan. In helicopter mode, maximum speed: 1200mph; equipped with radioactive jammers, target-indicating radar, magnetic, infra-red, and audio sensors. In robot mode, uses 2 corrosive acid rainmaker rifles.



The Transformers and all its subsidiaries is a registered trademark of Hasbro and Takara Tomy