It is a world transformed. Where things are not as they seem. It is a world of the Transformers...A world of the Heroic Autobots and Evil Decepticons!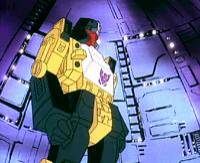 Tech Specs

Strength...8

Intelligence...8

Speed...9

Endurance...8

Rank...9

Courage...9

Firepower...7

Skill...7

Profile

Function: Tracker

Motto: "My pleasure with my enemy's pain comes."

Alternate mode: Cybertronian Wolf

Headmaster Partner: Monzo

Cruel, vicious, but apparently built with a few wires crossed. Talks to himself in a sing-song backward way: "Destroy the Autobots I shall. Tear them to scrap metal I will." Binary-bonded to Monzo, a brutish, professional hyperwrestler-turned underworld nightclub owner. In robot mode, uses photon pistol and thermal sword. In wolf mode, nose module is equipped with various tracking sensors. Can leap .8 miles.



The Transformers and all its subsidiaries is a registered trademark of Hasbro and Takara Tomy