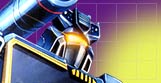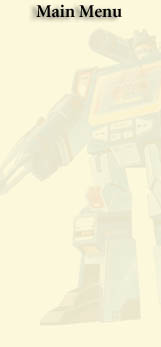 Strength:
Intelligence:
Speed:
Endurance:
Rank:
Courage:
Firepower:
Skill:
Total:
Function: Destron Information Staff
Transformation: Audio Player
Motto: "Cries and screams are music to my ears."
Note: C10 MIB, purchased 2013


Ability:

He has created a clone of himself and has collected music throughout the world in order to brainwash the young people.
Character:
An opportunist despised by the other Destrons, he is aware of this but keeps his mind on the mission at hand.

Background:
Soundwave is the evil Destron Information Officer. Uses his clones to control the world's music and plans to use this method to take back Planet Seibertron.

Music Label Story
There is a mysterious epidemic in 2007 where white audio players and earphones become a craze among young people. The young people using them are devoted to their collection of music. This was an Earthling Brainwash Operation by "Destron Army Corps Information Staff, Soundwave." The Cybertron forces saw the extent of the operation and Convoy installed speakers in his trailer giving out a frequency to stop the brainwashing. Can Convoy stop the young people being brainwashed by the Destrons? The Transformers battle on the auditory level has begun!


Photograph Links (click the following to view):
Front of box
Back of box
Accessories
Robot mode
Robot mode with weapons
Pressing eject
Close up of robot head
Audio player mode
Audio player door open
Back of audio player mode

DESTRON    SOUNDWAVE - Playing Audio Player -