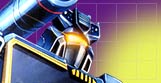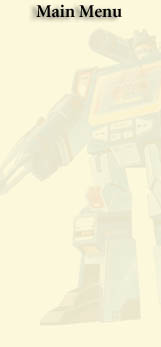 - Powermaster Optimus      Prime

- G2 Optimus Prime

- CS Optimus Prime

- Reissue Convoy

- Book Box Convoy

- New Year Convoy

- G2 Laser Optimus            Prime

- Classics Optimus            Prime

- ROTF Optimus Prime

- Universe Reissue             Optimus Prime

- THS Convoy

- THS Convoy black ver

Strength: 10
Intelligence: 10
Speed: 8
Endurance: 10
Rank: 10
Courage: 10
Firepower: 8
Skill: 10
Total: 76
Function: Cybertron Supreme Commander
Motto: "Freedom is the right of all sentient beings."
Note: C10 MIB, purchased 2003

Profile:
The Commander in Chief of the Cybertron's feels obliged to protect all living beings against the threat of the Destron army. Convoy was revived on Earth by Teletran 1 with the ability to transform into an earthen tractor trailer. A great strategist with enduring courage he fights against the evil of the Destrons; his presence is a symbol of the Cybertron's fight for freedom and justice.


Photograph Links (click the following to view):
Front of box
Back of box

CYBERTRON    CONVOY COMPLETE EDITION MP-4