It is a world transformed. Where things are not as they seem. It is a world of the Transformers...A world of the Heroic Autobots and Evil Decepticons!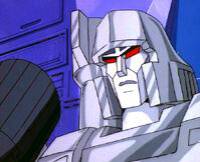 Tech Specs

Strength...10

Intelligence...10

Speed...4

Endurance...8

Rank...10

Courage...9

Firepower...10

Skill...9

Total: 70

Profile

Function: Emperor of Destruction (Leader of the Destrons)

Transformation: Walther P-38 (Pistol)

Ability: His fusion canon has tremendous destructive power, linking to a black hole indimensionally and using the antimatter, produced from the black hole as a weapon.

Character: The Destron monarch schemes the conquest of the universe. To do so, he requires all the resources of planet earth to be obtained.

Gallery (Click on Thumbnail):


The Transformers and all its subsidiaries is a registered trademark of Hasbro and Takara Tomy