It is a world transformed. Where things are not as they seem. It is a world of the Transformers...A world of the Heroic Autobots and Evil Decepticons!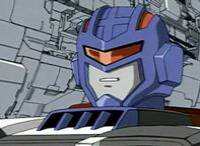 Tech Specs

Strength...8

Intelligence...10

Speed...7

Endurance...8

Rank...7

Courage...10

Fireblast...5

Skill...9

Profile

Minicon Partner: Powerlinx Longarm

Quote: "All life is precious."

Alternate Mode: Cybertronian Ambulance

Red Alert is a valued doctor and science officer who has saved the lives of many Autobots. His quest to save lives has led him to find new ways to repair damaged circuitry. He has risked his life many times to retrieve wounded comrades during battles. An old friend of Optimus Prime, Red Alert was once a fierce and heroic fighter, until he was seriously wounded in battle and saw the preciousness of all life. But will this new battle reawaken his warrior's heart? 


Gallery (Click on Thumbnail):


The Transformers and all its subsidiaries is a registered trademark of Hasbro and Takara Tomy

TAGS:

Transformers

Armada

Micron Densetsu

Legend

Mini Con

Red Alert

Ratchet

Powerlinx

Autobot