- eHobby Black Ironhide

- Movie Ironhide

- Universe Ironhide

It is a world transformed. Where things are not as they seem. It is a world of the Transformers...A world of the Heroic Autobots and Evil Decepticons!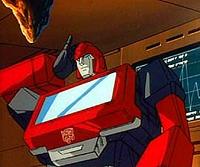 Tech Specs

Strength...7

Intelligence...7

Speed...3

Endurance...9

Rank...7.5

Courage...10

Firepower...7

Skill...7

Profile

Function: Security

Motto: "High tech circuitry is no replacement for guts."

Alternate mode: Toyota Onebox Cherry vanette

"Go chew on a microchip," is Ironhides slogan. Prefers action to words. Oldest, toughest, most battle-tested Autobot. Bodyguard to Optimus Prime. In charge of guarding anything of importance. Gruff but kind. Trithlyllium-steel skin makes him nearly invulnerable to attack. Shoots variety of liquids from super-cooled nitrogen to superheated lead. Has sonar, radar, radiowave detector. Slowest and most fragile of the group.


Gallery (Click on Thumbnail):


The Transformers and all its subsidiaries is a registered trademark of Hasbro and Takara Tomy