- Animated Ratchet

- Movie Ratchet

It is a world transformed. Where things are not as they seem. It is a world of the Transformers...A world of the Heroic Autobots and Evil Decepticons!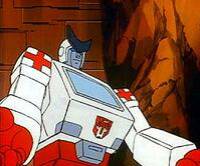 Tech Specs

Strength...4

Intelligence...8

Speed...4

Endurance...5

Rank...7

Courage...8

Firepower...3

Skill...10

Profile

Function: Medic

Motto: "You break it, I'll remake it."

Alternate mode: Toyota Onebox ambulance van

Ratchet was the best tool-and-die man on Cybertron. In his work bay on Earth he can make anything from a pin to a missile. Repairs injured Autobots, given the right parts. Likes to party, give backtalk, but does any job as well as anyone. Has laser scalpels, arc-welders, electron microscopes, circuit sensors, fluid dispensers at his disposal. Sometimes his having a good time interferes with his effectiveness.


Gallery (Click on Thumbnail):


The Transformers and all its subsidiaries is a registered trademark of Hasbro and Takara Tomy