- Encore Rumble

- Encore Enemy



It is a world transformed. Where things are not as they seem. It is a world of the Transformers...A world of the Heroic Autobots and Evil Decepticons!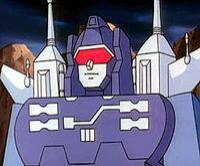 Tech Specs

Strength...2

Intelligence...5

Speed...2

Endurance...8

Rank...5

Courage...7

Firepower...9

Skill...5

Profile

Function: Demolitions

Motto: "Destroy what's below, and what's above will follow."

Alternate mode: Micro Cassette

Rumble is your basic street punk. Small but always acting tough. Quick temper and mean disposition. Follows Megatron's orders eagerly. Transmits immense low frequency ground waves to create powerful earthquakes. His small size limits his physical strength, but his ability to shatter the ground makes him difficult to approach in a fight.

Gallery (Click on Thumbnail):


The Transformers and all its subsidiaries is a registered trademark of Hasbro and Takara Tomy